More than 1,500 turtles and tortoises found in abandoned luggage
The reptiles, which have a market value of more than 4.5 million pesos (€75,000), were handed over to the Wildlife Traffic Monitoring Unit.
Police believe the suitcases were left after the carrier found out the penalties for illegal wildlife trafficking.
"The passenger may have been informed of the vigilance of Bureau of Customs against illegal wildlife trade and its penalties", the Philippine Bureau of Customs agency said, explaining why the luggage might have been abandoned.
Over 1,500 turtles were saved from abandoned luggage at an airport in the Philippines. Authorities found several species of turtles left behind in a suitcase, including Star Tortoises, Redfoot Tortoises, Sulcata Tortoises and Red-Eared sliders.
Three of the species of turtle found are on the International Union for Conservation of Nature's list of vulnerable species, but are frequently sold to buys around the world as exotic pets.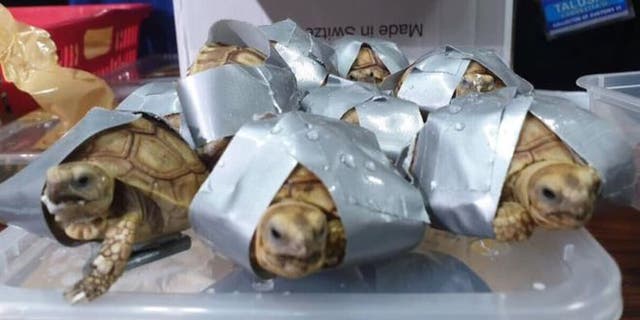 Some of the turtles had also been found wrapped in duct tape packed within plastic bins
Antiporda added the Philippines would ask Chinese authorities whether they wanted to take back the confiscated turtles which were being quarantined and treated in Manila.
According to Manila airport customs chief Carmelita Talusan, the passenger fled after the customs found the tortoises through X-ray screening.
Discoveries of smuggled wildlife are not uncommon in the Philippines.
Earlier this year, Filipino customs officials found "63 Iguanas, Chameleon and Bearded Dragons".
In 2018, authorities turned over a total 560 wildlife and endangered species - including 250 geckos, 254 corals and other reptiles which were caught through air parcels, baggage and shipments.
Top Stories
R Kelly back in jail in child support case
Judge Lori Rosen set the court date after she found Kelly was behind on payments for the care of his three children . Kelly was released from jail on February 25 after he paid 10 percent of his $1 million bail amount.
Anthem players say the game is bricking some PS4s
Whatever the cause, there's now a long list of tweets at the AskPlaystation Twitter account asking for refunds due to the issue. I had a problem exactly like the one going on now a couple years back with the Kingdom Hearts 1.5+2.5HD Remix.
Las Vegas NASCAR: Logano resists Keselowski in Penske one-two
Texas Terry man!" said an excited Logano of tying Labonte, "I remember growing up and I had a Terry Labonte die cast. He had an unscheduled pit stop on Lap 14 for a loose wheel that sent him a lap down.
Trump blasts Omar's Israel remarks; Dems condemn all bigotry
NBC News reports she went on to state the criticism prevents a "broader debate" about Israel's treatment of Palestinians. Omar has taken heavy fire for her remarks over the last week, which ultimately culminated in Monday night's resolution.
Who's getting document requests from House Dems in new probe
The committee voted February 26 to authorize its first round of subpoenas, which were sent to Attorney General William P. Others maintained the wide-ranging request would bolster Trump's argument that the probe was a vendetta against him.
Trump Blames Cohen Hearing for Failure of North Korea Summit
Waters unloaded on the president in eight tweets late Monday night, starting with a criticism of his meeting with Kim Jong Un last week.
Lack of creativity is undermining Liverpool's Premier League title bid
But Pele, widely considered the greatest soccer player in history, has chosen his side two-plus months ahead of time . They drew 0-0 at the venue in April 2018 and fell victim to a 90th-minute Sadio Mane decider in December 2016.
Michael Jackson Estate Releases Concert Film During 'Leaving Neverland' Premiere
With the #MeToo movement in full swing, it was only a matter of time that Michael Jackson would be put back in the crosshairs. Things get spooky really quick when both families finally made their way to Jackson's playground Neverland Ranch .
Civilians die in India, Pakistan clashes
Al Jazeera's Rahman said the India-Pakistan standoff is likely to be a major issue in the Indian general election, due in April and May.
At least 14 dead as storms, possible tornados hit Deep South
She said it was unclear how many tornadoes touched down but said the service issued at least six warnings on Sunday afternoon. Most of the damage was reported near Beauregard, and there were two confirmed fatalities in that area.